Black Oak Swim Club


2017 Membership Information
2017 Membership Information & Fees

POOL OPENING MAY 2017

Membership Registration Information

This season we find ourselves in a unique position, in that we have reached our maximum membership limit.

We are no longer accepting renewing or new memberships.

Renewing and new member requests received after 6:30pm on June 4, 2017 will be placed on a waiting list for the 2018 pool season.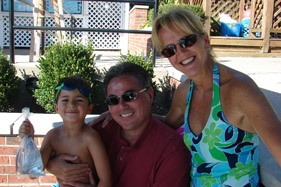 Black Oak is a professionally managed swim, tennis and recreation club that offers year-round fun for the entire family.  We offer very reasonable rates for our excellent facility, which includes a large heated pool, modern clubhouse, professional tennis courts, and an entire range of activities for summer and throughout the year.  As a Black Oak member, you are a valued member-owner and considered "part of the family".  Compare to other South Dayton swim clubs – Black Oak offers the most value for your membership investment.  It's a great place to belong!
This year we are implementing a new membership software package and strongly encourage everyone to use the online membership renewal process. All new members and renewing members can process their membership on line, then choose to pay on line with a credit card (3% convenience fee) or mail in their payment by check. Simply visit our website to begin renewing your membership. After updating your information you have the choice to either pay online using our secure payment option or send in your check. We accept Visa, MasterCard, and Discover as online payment options. If you do not have access to the internet, contact the membership chair directly and the necessary documents will be provided to you.
Family Membership includes all family members living in the same household.
2017 Membership Rates:
One-time non-refundable Initiation Fee: $500.00

Annual Family Membership Dues: $415.00 + 7.25% Sales Tax = $445.09
Annual Individual Dues (age 18+): $305.00 + 7.25% sales tax = $327.11
Annual Senior Dues (age 65+): $305.00 + 7.25% sales tax = $327.11
All annual memberships are non-refundable, non-transferable.
Discounts
Refer a friend that results in a new family membership and receive 10 free guest passes ($50.00 value).

Active Duty Military Discount of 15% on initiation fee.
Early Bird Special

– Complete your registration and submit payment by March 31, 2017 and receive a $25 discount.

FIRST-TIME FAMILY MEMBERSHIP PURCHASE INCLUDES

one of the following: an $80 value swim team or dive team registration for one swimmer; or 10 free guess passes for the 2017 season; or one babysitter pass for the 2017 season. The membership chairperson will contact you for your item choice.
Other Fees
Swim Team only: $80 first child, $70 for each additional child
Dive Team only: $80 first child, $70 for each additional child
Swim & Dive Team: $110 first child, $100 for each additional child
Guest pass: $5.00 guest fees ($3.00 after 5pm) – if you buy a book when you register before May 26, 2017, 10 passes/$40
Babysitter pass: $50 with a Family membership
Grandchild pass: $50 with a Senior or Family membership
Tennis lessons – as noted on the tennis lessons page
Swim lessons – as noted on the swimming lessons page
For more information on how to become a member, please e-mail Pattie Pearce – Membership
In case you are not receiving our emails, reminder to add boscnews@gmail.com to your address book and check your spam folders.