Black Oak Swim Club
2019 Membership Information & Fees

POOL OPENING MAY 24, 2019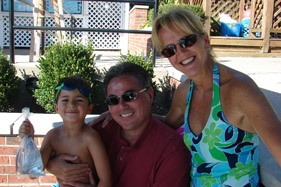 Black Oak is a professionally managed swim, tennis and recreation club that offers year-round fun for the entire family.  We offer very reasonable rates for our excellent facility, which includes a large heated pool, modern clubhouse, newly resurfaced tennis courts (2016), resurfaced parking lot and diving boards (2017), and an entire range of activities for summer and throughout the year.  In 2018, we completed Phase I, thanks to our garage sale and member donations, and more green space has been added to BOSC! As a Black Oak member, you are a valued member-owner and considered "part of the family".  Compare to other South Dayton swim clubs – Black Oak offers the most value for your membership investment.  It's a great place to belong!
This year we are continuing to use our eSoft membership software, and strongly encourage everyone to use the online membership renewal process. All new members and renewing members can process their membership on line, then choose to pay on line with a credit card (3% convenience fee) or mail in their payment by check. Simply visit our website to begin renewing your membership. After updating your information you have the choice to either pay online using our secure payment option or send in your check. We accept Visa, MasterCard, and Discover as online payment options. If you do not have access to the internet, contact the membership chair directly and we will help you through the process.
Family Membership includes all family members living in the same household.
2019 Membership Rates:
One-time non-refundable Initiation Fee: $500.00 (Can be split over 3 years)

Annual Family Membership Dues: $415.00 + tax

Annual Individual Dues (age 18+): $305.00 + tax

Annual Senior Dues (age 65+): $305.00 + tax
All annual memberships are non-refundable, non-transferable.
Discounts
Refer a friend that results in a new family membership and receive 10 free guest passes ($50.00 value).

Active Duty Military Discount of 10% on initiation fee.
FIRST-TIME FAMILY MEMBERSHIP PURCHASE INCLUDES:

Choice of one Babysitter Pass, or a book of 10 Guest Passes, or one swim team membership.

 
Other Fees
Swim Team only: $75 per child
Dive Team only: $75 per child
Swim & Dive Team: $105 per child
Guest pass: $5.00 guest fees ($3.00 after 5pm) – guest passes purchased before May 24, 2019 are $4 per pass
Babysitter pass: $60 with a Family membership
Grandchild pass: $60 with a Senior or Family membership
Tennis lessons – as noted on the tennis lessons page
Swim lessons – as noted on the swimming lessons page
For more information on how to become a member, please e-mail Cindy Harris – Membership
In case you are not receiving our emails, reminder to add boscnews@gmail.com to your address book and check your spam folders.